Strategic Business Banking Helps Landscape Company Recover from a Financial Crisis
Founded in 1890, and built on a standout reputation for integrity and quality of services, Teufel is still a family-owned business five generations later. They are the largest landscape contractor in the Pacific Northwest, and among the Top 10 landscaping contractors in the country, providing landscape design, construction, and ongoing maintenance services at Fortune 1000 office campuses, outdoor shopping centers, healthcare facilities, and other commercial properties.
But it almost didn't turn out that way.
In 2009, Teufel faced an unexpected crisis when its Texas-based bank suddenly called in their loan, forcing the company to seek Chapter 11 bankruptcy protection. Despite this setback, Teufel established a reorganization plan that called for the complete payback of all its debts.
And Teufel was true to their word.
"We wanted to make sure that not only our company survived, but that all of our vendors survived as well," explains CEO Larry Teufel. "It took a long time, but we paid everybody back at 100 cents on the dollar, plus interest. Our final payout was in January, 2015, and none of our unsecured creditors or vendors lost a dime."

A Slow Return to Profitability
As the construction industry struggled through the Great Recession, Teufel's recovery was especially slow, because landscape contractors are often the last participants to be called in on a building project. Landscapers must normally wait a year or more, until all other construction is finished, before they can install landscaping in an office park or build a green roof on top of a skyscraper. During this time, a percentage of the company's fees are withheld until after the job is completed.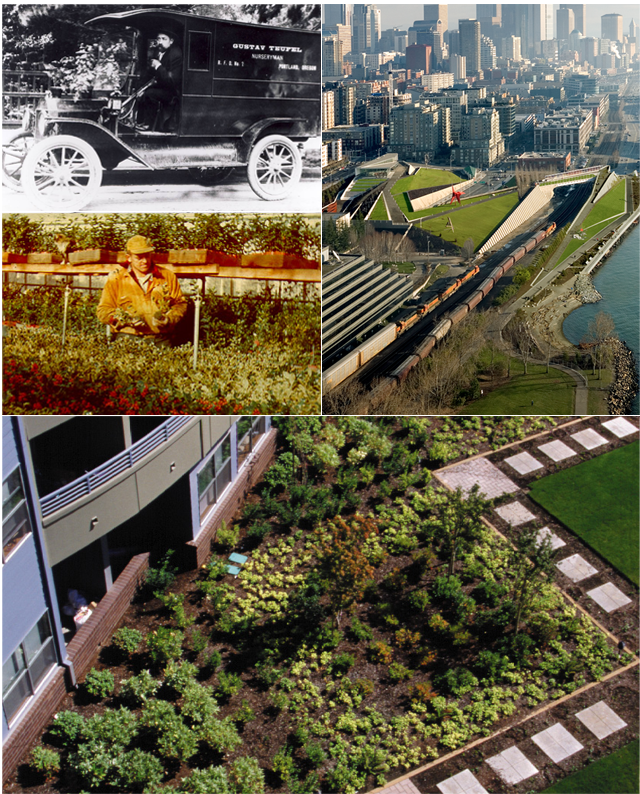 Originally, Teufel's plan was to grow itself out of bankruptcy by continuously increasing sales volume and buying market share. But after several years of flat sales, it became obvious that this approach wasn't working.
"In 2015, we changed our focus to bottom-line profitability," says Jeff Neal, Chief Financial Officer at Teufel. "We decided that we would only take jobs above a minimum margin level, and we'd turn down any jobs where we couldn't make a profit. We also established accountability standards, better tracking of expenses, and more job management oversight. Once we had those standards in place, things turned around quicker than we expected."
That change made a big difference.
On the Right Track, and Looking for the Right Banking Partner
From 2015 to 2018, Teufel Landscape had four years of solid profits (including three record-setting profit years). But even with an established recovery, the company had trouble finding a banker that would provide the financial assistance it needed for long-term growth.
"Our customers loved the work we did for them," says Neal. "But they couldn't do as much business with us as they wanted to, because we didn't have the credit available to hire labor, rent equipment, and buy or prepare the plants we needed to prepare for large-scale landscape construction jobs."

"But Northwest Bank invested the time to see what was really happening with our business, and worked with us to establish financing. They saw our endgame, where we were trying to go, and they believed in it."
Cultivating Business Growth Through Better Banking Relationships
Initially, Northwest Bank helped Teufel Landscape's sister company, Teufel Holly Farms, to set up a 1031 exchange, allowing them to sell one property and invest in another while minimizing the tax exposure. In doing so, the company exchanged ownership of an office building for a 36,000 sq. ft. greenhouse and cooling facility that was strategically more important to the business. They also established a line of credit that the company uses to buy materials and hire seasonal workers in autumn, for making wreaths, garlands, and other holiday decorations.
"Many banks aren't willing to finance a business like Teufel Holly Farms, which only produces income during a short-duration season, instead of over the entire year," says Neal. "But Northwest Bank worked with us to establish the credit we needed to produce our inventory deliverables ahead of the holidays."
Northwest Bank established a similar line of credit for Teufel Landscape, which allowed the company to make more strategic decisions that enable further growth. For example, the availability of funds allows Teufel to buy new construction and landscaping equipment instead of renting it, which is a more cost-effective option. The extra cash flow allows Teufel to make faster payments, which has enhanced the company's business reputation and enabled them to negotiate better prices with vendors and sub-contractors.
"Working with a smaller, local bank really makes a difference," says Neal. "We have a great relationship manager at Northwest Bank, whom we see as a trusted advisor. If I call the bank, the people who answer the phone always know who I am. If I stop by our bank branch, they greet me by name and they're super-helpful. They can provide us with faster and more personal service than we might get from a larger, out-of-town bank."

"Northwest Bank looks at each customer individually, and bases their decisions on the customer's merits. We've been able to do a lot of good things with the resources that they've provided us. Their financial guidance has been key to our turnaround."