A strong bank is a better partner.

As much as we focus on our customer's business, we also focus on our own. Growing our assets, and managing risk in a measured and responsible manner is important to our ability to serve the Pacific Northwest and provide a healthy return for our shareholders.

We create financial solutions that work. That is good for our customers and our business.
Read Quarterly and Annual Shareholder Letters and Financials
Ownership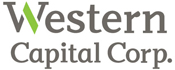 Northwest Bank is an Idaho-chartered bank owned by Western Capital Corporation.